While originally planned for Friday, April 3, 2020 at SUNY New Paltz, we will be postponing this workshop to a later date. In the meantime, we've compiled a list of resources that might be helpful for stream and buffer protection. See below!
Maintaining healthy vegetation as a buffer around streams is one of the most important actions to protect water quality and stream health. However, it can be challenging to protect these critical riparian areas. This workshop will discuss the science behind stream buffers and what communities can do to protect them.
Wetland and Watercourse Protection Measures
NYS Department of State and NYS Department of Environmental Conservation
New York State Department of State (DOS) prepared a collection of model local laws, in consultation with the New York State Department of Environmental Conservation (NYSDEC) and other stakeholders, that include consideration of future risk due to sea-level rise, storm surge and/or flooding as a result of climate change as required in the New York State Community Risk and Resiliency Act of 2014. Municipal adoption of model local laws is intended to help local governments and their communities increase resiliency.
Conserving Natural Areas & Wildlife in Your Community and Creating a Natural Resources Inventory
Hudson River Estuary Program, NYS Department of Environmental Conservation
The first handbook describes various tools that local governments can be use to conserve natural areas, including streams and their buffers. The second handbook focuses in on the process to create a Natural Resources Inventory, which can be an important tool for municipalities to identify and share information on significant natural resources.
Watershed Design Guide: Best Practices for the Hudson Valley
Orange County Water Authority and Regional Plan Association
This document was created to be a reference during municipal planning processes such as site planning, comprehensive planning, and developing municipal land use regulations to help applicants and local officials communicate about and enhance proposed design elements. It was written for members of local planning boards and commissions, citizen planners, and advocates, as well as responsible developers.
Draft Language for Stream Corridor Overlay Local Law
Moodna Creek Watershed Intermunicipal Council
Orange County Planning Department worked with the Moodna Creek Watershed Intermunicpal Council's Education & Outreach Committee to develop a model local law for a Stream Corridor Overlay district. This model law was distributed to all 15 municipalities within the Moodna Creek watershed.
Navigable Waters Protection Rule
United States Environmental Protection Agency
On January 23, 2020, the U.S. Environmental Protection Agency and the Department of the Army finalized the Navigable Waters Protection Rule to define "Waters of the United States" and thereby establish federal regulatory authority under the Clean Water Act. The Navigable Waters Protection Rule is the second step in a two-step process to review and revise the definition of "waters of the United States." This website also includes fact sheets on the rule, a webinar explaining key elements, and a PDF copy of the webinar's slides. Note that this rule does not protect stream buffers, only the waterways themselves.
Stream Buffer Fact Sheet and Hudson Estuary Trees for Tribs
Hudson River Estuary Program, NYS Department of Environmental Conservation
This fact sheet describe the benefits of healthy stream buffers to protect waterbodies. The Hudson Estuary Trees for Tribs Program helps to protect and restore streamside buffers by providing free native trees and shrubs for qualifying planting projects in the Hudson River estuary watershed.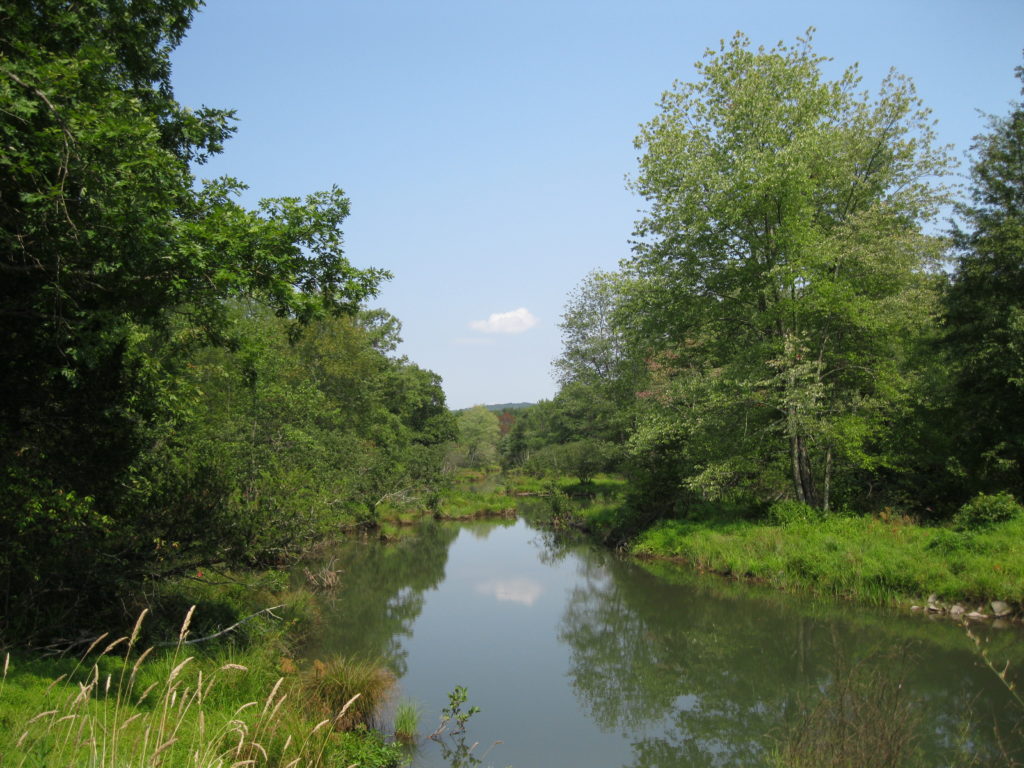 Organized by the Hudson River Watershed Alliance and Hudson River Estuary Program. Hosted by by the Benjamin Center at SUNY New Paltz. Sponsored by the Hudson River Estuary Program, New York State Department of Environmental Conservation, with support from the New York State Environmental Protection Fund, in cooperation with the New England Interstate Water Pollution Control Commission.